Thermoformed Plastic Packaging plays an essential role in the presentation and protection of Consumer Electronics, Health and Beauty, Medical, Food, Retail and other products prior to use. The clear plastic presentation provides manufacturers the added benefit of displaying valuable product information to your customer helping to both sell the product and support a confident buying decision. Thermoformed Packages also help to prevent "product loss" as the package can be sealed and made tamper resistant.
Below we will discuss in more detail the process of Thermoforming, Munot Plastic's 56 years' experience, and how our proven cost-effective processes have been the choice of consumers across the country.
What Is Thermoforming
Thermoforming is defined as the process of heating plastic sheet until pliable. In this "pliable" state, the plastic can then be formed into three-dimensional shapes by using a combination of well executed vacuum and pressure within a mold. The plastic is then trimmed to create a unique, custom package. Munot Plastics utilizes Thermoforming to create Custom Clamshells, Blisters, and Trays for a variety of packaging needs to many different industries.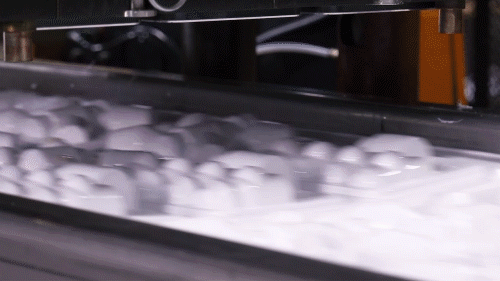 The Process
Design

– Considering the intended use of the package and the product to be supported, our Design Engineers, in conjunction with the customer, create a unique Custom Package. Working with Munot Plastic's our customers gain the competitive advantage of working with some of the best, most creative and experienced designers in our industry.

Prototyping

– With our expert Design and Engineering staff Munot will work from your design concept, create designs for you and even Reverse Engineer an existing package. In any case we will work with you to discover the right package for you. Upon approval of design we can have samples in your hands within 10 days. Our proprietary sampling process allows for simple modifications as we work with you to define every detail prior to production.

Production Tooling

– Manufacture of your Production Tooling begins immediately upon receipt of approval of samples and takes approximately 5 weeks to complete. Created in-house by our State of the Art Tooling Department. All Production Tools and Ancillary Components are designed to complement your "Custom" project focusing on cost effectiveness and repeatability.

Production

– Once Production Tools have been completed, we will run a small amount of production parts for your approval. As approval is received we will then move forward with completing your order. Production quantities are than produced and delivered. Munot will then maintain YOUR Custom Tools throughout the life of our partnership providing maintenance whenever needed at no cost to you.

Materials Used
In conjunction with our meticulous attention to product quality and process parameters, we specialize in a multitude of plastics to ensure every component meets our clients' specifications.
Scroll left or right to see more information.
| Recycling Code | Polymer Abr. | Polymer Name | Recyclable |
| --- | --- | --- | --- |
| | HIPS | High Impact Polystyrene | Yes |
| | PVC | Polyvinyl Chloride | Yes |
| | PET | Polyethylene Terephthalate | Yes |
| | PETG | Polyethylene Terephthalate Glycol | Yes |
| | HDPE | High Density Polyethylene | Yes |
| | Other | Miscellaneous | Yes |
Munot's vendors use a max of 80% recycled material in their Utility run HIPS, PVC, PET
Our Commitment to the Future
At Munot, we recycle all scrap and waste plastic by feeding it into a granulator (grinder) and producing ground flake then selling this flake to reprocessing companies. More and more common, scrap and waste plastic from the thermoforming process is re-cycled back into extruded sheet for forming again.